When we were back on Kentucky Lake, locking the door really didn't matter to us. We typically knew the people anchored around us. However, once we went cruising, we then encountered some areas where Deb was uncomfortable. After buying, and returning, a number of slide bolts, hooks, and other devices I could never seem to make work and look good, I decided on a much simpler approach.
We have a Gemini 105M which is hull number 536. It was manufactured in December of 1996 and newer models are a little bit different. I elected to install these simple, non-obtrusive, turning fasteners on both the door and door frame. I believe they are called Common Sense Standard Turn Buttons. They have a screw integrated into the fastener. I cut the screw down so it would only be about a half inch long.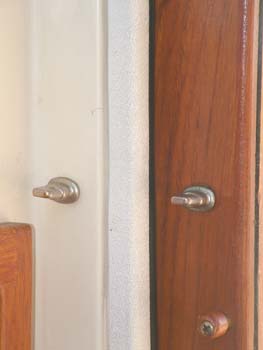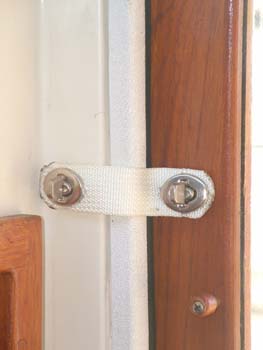 Next I took a piece of webbing and after cutting it to length, I put in two of the female fasteners. They are called Common Sense Eyelet, Standard Prong along with backing Slotted Washer.
By using the webbing, I then didn't have a problem with the offset of the door and getting something to match up. Also, when the webbing is not installed, the fasteners aren't very obtrusive.
We figured this would provide enough noise breaking in that it would wake us and that is about all you can ask for. It is also easy to get on and off so there are no keys to mess with in an emergency.