There were several questions on the list serve about changing out the gas water heater so I decided to pull the info from my logs and place it in the projects. It should have been there anyway!
When we crossed the Gulf Stream, I had forgotten to close the vent for the water heater. To be honest, I've forgotten to close it before and the effects of the saltwater on the heater finally did their thing and it wasn't reliable anymore. To be honest, I liked having the propane heater but I never liked this exact unit. Paloma had made a smaller unit that was perfect but the one on our boat never really controlled the heating well. If you mixed hot and cold water together for a shower, it would always go from real hot to real cold so I always had to put it in a shower bag and use it from the shower bag. Better than nothing but not perfect. You can see some of the corrosion in the pictures to the right and lower left. I tracked down a new Excel unit and bid on it from Ebay. This unit was from Excel America. I got a deal and they shipped me the unit that has an oxygen sensor along with an automatic lighter without a pilot. This unit is WONDERFUL. It is also smaller than the Paloma unit. I removed the old unit and then made a trip to Home Depot for parts to install the new one. In the end, everything was installed and it worked great. It controls the temperature very well and now all we have to do is turn the gas valve on and turn the hot water valve on the faucet. This is just as easy as having a house and it is hot water on demand. On top of that great feature, you no longer need that vent. I have a new vent coming because it had also corroded. When I install the vent, I will close it and never open it again. You can see the new water heater installed to the lower right.
By the way, Deb is REALLY happy about the new hot water heater because she is now independent and doesn't need me to fill a shower bag. Me, well as I think I've said before - If Deb is happy, I'm happy.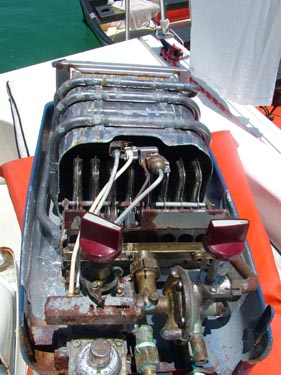 I finally got the new vent and installed it although it has been screwed down tight. When we operate the heater now we simply crack the window a bit although it really isn't necessary. In addition, I also installed a new cabinet above the water heater. As you can see, I covered the lower portion with aluminum so it would act as a heat shield.
I have purchased but haven't installed at this time a heat register that will be attached to aluminum to go above the water heater. This will finish off the space and keep things from falling down into the water heater.
One last comment. We had a problem with our unit which turned out to be an internal battery. After an email and an extraordinarily prompt reply, we found out they had a problem with some of the units and they shipped us a new piece in the mail that will replace the defective unit. Great service. This is a project I would do again in a heartbeat!