Hans Gerwitz and Steve Eckelkamp fly with Jim Faughn
Well that would be the headline. I've been promising Hans and Steve a flight for about a year, after I returned from the KR Gathering, I had flown 4 other people so the time was right. The plane was perfect, my skills were high and they were ready. Steve actually had been loosing weight to fly in the plane. Neither of them had seen my plane before the flight but neither backed out. We had a great time from takeoff, the flight up the Mississippi river, past the Alton lock, a good view of the new Alton bridge and on the return trip we were able to fly right past the Arch. What a view we had and it reminds me of the privilege I have to fly in St. Louis out of Parks Airport and the view I have each time I take off or land. I know they had a good time and I hope the pictures help them relive the flight. Julie took the pictures on the ground and Hans took the ones in flight. I just flew the plane.
| | |
| --- | --- |
| Hans went first and you can see him checking out his decision to fly in the "big" plane. | |
| | |
| | |
| | |
| | Hans and his father, John Gerwitz. John flew with me on a flight before when we circled the entire city. |
| | Hans is describing the flight as the next rider, Steve, looks on. The pictures you see next are of the flight path we took on both flights. It was a beautiful day and Hans got a great picture of St. Louis with my new camera. |
| | |
| | Above you might see some of the birds we had to miss. Also, these guys were up having fun on the first flight. |
| | |
| | We are on final for the landing back to CPS or Parks airport. |
| | |
| | |
| Ok, it isn't a BIG airplane.... But we put it on just fine and it flys well. Don't you just love the jets in the background? They were coming over looking at our plane and wishing they could have as much fun. | |
As I've also said, flying around the St. Louis area has it's advantages and disadvantages. One of the largest advantages is the view. You can see the view we had below as we flew back in for the landing..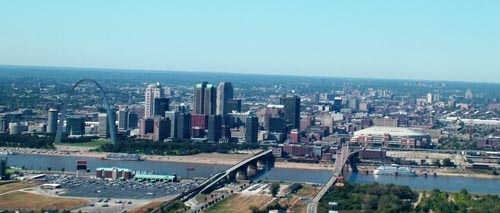 Web Page by Jim Faughn