Let's start with the plan:
We plan on being to West Palm by May 10th. If the weather is perfect we will anchor there and leave early on May 10th. Otherwise we will stop at Lake Worth since there is a good dinghy dock with access to stores and restaurants. Lake Worth will be a good place to weather any front if necessary then we will pre-position the night before we leave to West Palm.
It is always a risk for people who want to visit you to book an airplane since you never know about the weather or if you will have a boat problem. As long as they understand this, we figure it will be safe for people to book as early as June 25th to arrive in Marsh Harbor. This will give us 15 days to make what could be a 4 day trip over to Marsh Harbour. Reality is, once we are on the Bahamas bank then long trips are over and our goal will be to check in at Spanish Cay (pronounced Key) then get out and do some snorkeling, fishing, happy hours on boats, impromptu get together's, walks on the beach, find shells, you get the idea! In other words, we won't make Marsh Harbour in 4 days but we could.
My idea for the trip is to help those who haven't crossed before or gone to the Bahamas to provide some education and direction before the trip, cross as a group, get everyone checked in to Bahamas Customs. Next I see us making some group decisions about where we can all group up during the trip to enjoy some common things such as having a Nipper at Nippers on Sunday afternoon - a tradition in the Bahamas or climbing the light house at Hope Town, touring at Pete's Pub, not to mention probable live music at Green Turtle Club, fun in Marsh Harbour. On top of these possible group activities, I fully expect for and encourage people to break off and go snorkeling, diving, fishing, have fun with each other or people that flew in. In other words, we won't be "joined at the bilge."
Currently we are planning on starting back to the States around June 11 or 12. Since the Okeechobee route will be closed, we will be going back by way of West Palm so you can check in there if you need to. If you have the local boaters option, you will not need to check in "in person."
Hope Town is one of the settlements that you will want to visit. You can see the mooring field below along with the lighthouse.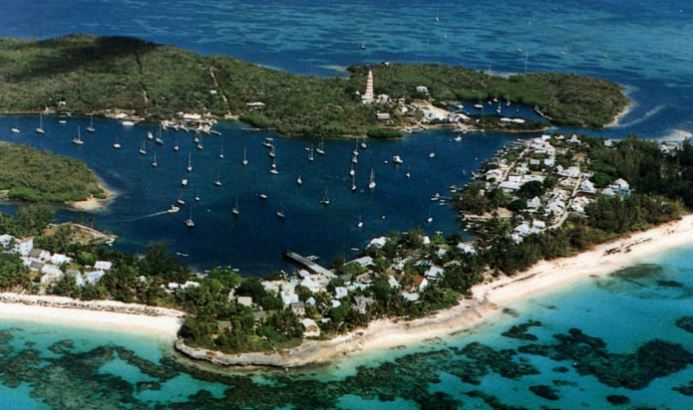 Now for the list that I'll be filling out directions for over the next few weeks.
Passport - If you don't have one for everyone that will be going on your boat, get started now and get them.
FCC License - The FCC requires that you have a station license if you transmit in another country i.e. Bahamas. I have one and the link takes you to how I did it. With that said, I think I'm the only one that goes over that does have a license.
Customs Sticker - You will need a sticker from Customs which you can order on-line. It takes a couple of weeks to get it so get started right away.
Local Boaters Option - LBO - If you plan on going to the Bahamas frequently, (key word plan) and I do, then you can get the local boaters option which will allow you to call in when you return from the Bahamas instead of appearing in front of a Customs officer. I'm planning on doing this in the next week and will document the process for you.
Explorer Charts - EVERY Cruiser will say that the explorer charts are the BEST. I agree and you will need the set for the Near Bahamas. Order them NOW so you can study them and read about your trip. You may also want to order a guidebook for the Bahamas and I personally like the one by Steve Dodge. I have an older one but it is very good. You may also want to read about our trip to the Abaco's two years ago. We hit most of the good spots and will again.
Bahamas Check In - What to expect
Dinghy Docks - They are abundant and the locals use their boats as cars going from island to island. This won't be an issue and are documented. However, your dinghy is now your family car and will get you around everywhere. Make sure you have patches and your engine works well before you leave. Get an anchor and a long line. If you are going to snorkel from it, make sure you can get in and out - ladder.
Flags - You will need a US flag that will be flown on your aft stay or a pole if you have one. You will also need a quarantine flag that will be flown from your starboard spreader until you check in. Once you check in you will replace your quarantine flag with a Bahamas flag. It will fly until you leave Bahamas waters when you will put your quarantine flag back up for entry into the U.S.
Food - We'll probably take 3-4 weeks of food with us. That said, shopping at Green Turtle, Marsh Harbour, Hope Town is all pretty good. Just expect to pay about 25% or so more for everything. They have to ship it by boat so their costs are greater and taxes are included in the price verses the add on we have in the states. One thing you have to consider is you will be getting together on other peoples boats for happy hour. Take your favorite recipes along with the ingredients.
Diesel and Gas - Pretty easy to get but expect to pay 30+ percent higher. Don't be surprised if it isn't 6 bucks a gallon or higher by summer. I usually take a 5 gallon can of diesel on the rail along with a 5 and 2 1/2 gallon can of gas. Diesel is for my security blanket - just in case. The gas is for my Honda Generator and the dinghy.
Propane - Easy fill up of propane at Marsh Harbour at the hardware store where you drop off a can then pick it up later. The cost will probably be twice what you pay in the states. I'll be taking my spare BBQ grill tank so I have 3 tanks on board.
Snorkel Equipment - Take what you would like. We have one person (Bill) going who is an expert diver and snorkel guy. He will be in the water every day. On top of that, he's a great guy so if you are new to snorkeling or diving he'll probably help you out.
Fishing - You will receive a fishing license for the boat when you enter. It is part of your Customs process. If you like to fish, take your equipment. If you want to spear fish, you have to use a pole spear.
Flares - You should have flares already but make sure they are current. You will be offshore and if something goes wrong you will want them.
Spares - You have to decide what to take. If you don't have it and it breaks over there it will cost more and take time to get. You probably already have your spares list but if you don't then talk to your mechanic or if you do the work yourself you probably know what to take. The good news is that right now it looks like we have 4 Gemini's going along with 1 or 2 other boats. So, you should be among friendly people if you break something you don't have.
Emergency Contact - There is a morning net in the Abaco's. They will track us down with the radio net in case of emergency. Povide them with our boat name - Freedom Cruisers@oii.net
Weather - The weather forecast is broadcast each day on the morning net.
Wi-fi - Many of the businesses have wi-fi they allow you to use if you are customers. You will be able to get email.
How long before people will hear from you? - You need to figure it will take 3-4 days from the time we leave before we are checked in and you can get wi-fi to let people know you are fine and getting sunburned in the beautiful Bahamas. Don't let them worry, you'll be with a group so you'll be fine. Don't worry.
Next is the plan to cross.